KeyMetric gives you instant access to up to the minute phone call, conversion and engagement data that spans your entire marketing portfolio. Instantly track every visit, phone call, conversion, and event back to the referring campaigns, traffic sources, domains, PPC keywords and search terms.
Anytime, anywhere, from any device - adTrax provides real-time call and conversion analytics to measure advertising effectiveness. Eliminate "big data" and benefit from "smart data" to make quick, cost-responsible marketing decisions. Access standard reports online, build and share custom reports in seconds and easily distribute customized reports across your entire organization.
Capture Referring Source, Domain, Keyword & Search Term For Every Inbound Call & Engagement
Industry data shows 70% or more of all online and mobile engagements result in an offline phone call. So the question you need to ask yourself is, "
how can I effectively improve advertising performance, keyword bids and SEO unless I can accurately connect phone calls and conversions back to the source, ad, keyword and/ or search term
?" The answer is, "
you can't - unless you are using KeyMetric adTrax360
!"
Reinvest In The Campaigns, Keywords, Media & Content Proven To Generate The Highest ROI
With KeyMetric you know exactly which sources, domains, campaigns, content and keywords are generating phone calls, engagements and leads. Start paying for leads and stop paying for visitors by intelligently reinvesting your advertising dollars where proven to generate the greatest return. In many cases, the advertising campaigns, keywords and content that deliver the majority of visits do not generate the most phone calls, engagements and leads. If you're not tracking all your online and offline engagements and call-to-actions, including telephone calls, with the level of "smart data" only available with KeyMetric adTrax, you cannot effectively adjust ad spend, ad buys, and keyword bids to truly maximize your advertising investments.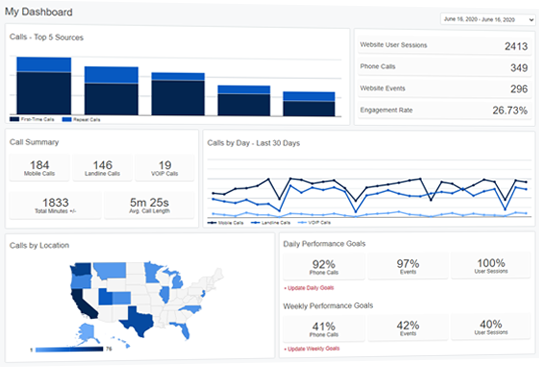 Know Which Online, Offline & Mobile Investments Make Your Phone Ring!
Referring Traffic Source
Referring Domain
Search Engine & Network
Content Network
Affiliate Network & ID
Ad Source & Type
Media Source & Type
Social Network
Pay per click Keyword
Organic Search Term
Offline Ad Source
Offline Ad Campaign
Best-in-Class Features & Benefits!
Unlimited Source & Keyword Call Tracking
Session-Based Intelligent Number Insertion
Quick & Easy Implementation
Customized Administration for Agencies
Use Existing Telephony Services (Enterprise)
Integrate Call Data with Third-Party Apps
Standard & Custom Real-Time Reporting
Instant Local & Toll-Free Numbers
Call Recording, Whisper & Annotation
Post-Call Scoring & Sales Notes
Integrated Online Conversion Analytics
Month-to-Month Service. No Contracts
Share Your KeyMetric Call Analytics Data
KeyMetric seamlessly pushes phone call conversion data to Google Analytics, Google Adwords, Acquisio, Salesforce.com, DashThis, and more. This feature supports customers looking to view their KeyMetric call conversion data with information provided by independent third-party sources and systems.
For Google Analytics and AdWords, simply provide KeyMetric with your Google Analytics Account ID. That's it. No changes are required to your website or Google Account. And once your KeyMetric call data is integrated with Google Analytics, you can seamlessly import it into Google AdWords to view as conversions.
For those customers (and call tracking vendors) looking to integrate KeyMetric analytics data with internal systems or with other third-party Enterprise reporting systems, we provide the KeyMetric API - a Web Services API to pull KeyMetric call conversion data, in real-time, to those systems.
KeyMetric Enteprise Call Tracking
KeyMetric Enterprise is the only call analytics platform in the world that is capable of integrating third-party telephony providers and nearly unlimited business management systems. Unlike other call tracking companies that can only use their telephone numbers and minutes, KeyMetric Enterprise can sealessly integrate with any third-party telephony provider (and use their toll-free and local phone numbers) that is capable of exporting a data record of the call activity via the KeyMetric API.
Often, larger companies or businesses with multiple locations already have a dedicated telephone service provider who they purchase cost-effective toll-free and/ or local phone numbers from; and where they benefit from low per-minute or per-call rates. KeyMetric Enterprise is ideal for larger advertisers, ad publishers, call centers and other businesses who have made an investment in their telephone systems and processes, yet are looking to benefit from advanced, real-time call analytics.
Did You Know...
That nearly 70% of online and mobile searches result in an inbound phone call? If you are not effectively tracking your phone calls, leads, conversions and sales across your advertising investments then you cannot effectively optimize your campaigns to improve your marketing effectiveness.